TOWING SERVICE DOYLESTOWN, PA

Servicing the Tri-State Area
We tow for all auto clubs and are on call for local police departments in the area. We have 17 trained and Wreckmaster Certified drivers specializing in towing and recovery. Ask about our competitive rates.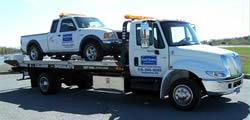 EMERGENCY ROADSIDE ASSISTANCE
Towing by Fred Beans
Emergency Roadside Assistance
Towing and Recovery
Local and Long Distance
Conventional and Flatbed trucks
Rental cars available 24 hours a day, 7 days a week
Towing by Fred Beans
CONTACT INFORMATION
John Wachowicz - Manager
1100 Airport Blvd.
Doylestown, PA 18902
Phone: (215) 345-8080