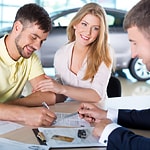 At Fred Beans Chevrolet in Doylestown, PA, we always want our community to be well-educated on financing their vehicle. Whether you want to refinance or finance a new vehicle, we are always here to help you with any questions you may have.
Refinancing a vehicle is as simple as getting a loan with a lower interest rate. Unlike trading your vehicle in for a newer one, you keep the current vehicle that you have and pay lower monthly payments. While there are other reasons to refinance, such as taking a cosigner off of the loan. Typically, it is for the lower monthly payments.
A trade-in is a vehicle that usually doesn't have many payments left on it if any at all. When you take in your current vehicle to trade it in, you will get an amount for it that you can put towards a new vehicle.